To learn more about iVT, please read through this presentation first given at Aachen in October 2017
iVT Overview
Unfortunately this content does not scale well onto mobile devices. Rather than give you a bed experience, you can download a pdf of the presentation slides using the button. Thanks.
Download pdf
What is iVT
iVT is a full authority, purely electro-mechanical, variable valve actuation system for piston engines
Unprecedented level of control – valve by valve
Full, fast feedback control throughout the event
Can be used on both inlet and exhaust valves, double events possible – an HCCI enabler?
Digital control of gas exchange, the last controllable combustion variable
Intelligent Valve Technology
Uses an individual, electrically actuated desmodromic mechanism per valve or valve pair
No mechanical drive from the crankshaft
No conventional valve (or "helper") spring
Compliance to allow for seating loads, expansion etc. is built in to the drop link
Operates on 12 or 48 volts
Operating Modes
Full lift = full rotor rotation
Part lift = part rotation + return
Rotor velocity never constant
Rotor "parks" between most events
Every event is independent of both its predecessor and its successor
What does iVT Offer?
Complete, infinitely variable, phase control
Complete, infinitely variable, period control
Complete, infinitely variable, lift control
Event shape control – and not just MOP shift
All virtually independent of each other
Multiple event, no event
iVT Installation
Actuator axis perpendicular to crankshaft
Electronic control unit compliantly mounted over or alongside the mechanicals
Packages within normal N-S and E-W layouts with conventional bonnet clearances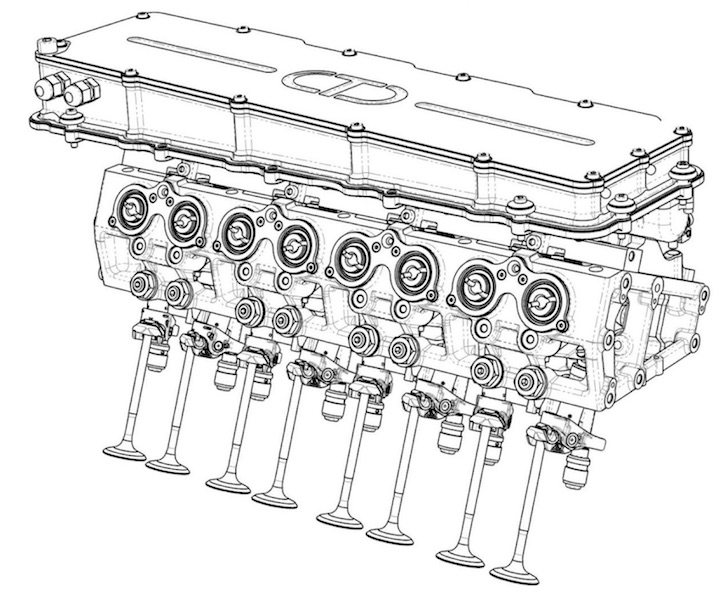 Electro-mechanical Layout
Mechanically, the linkage contains nothing unfamiliar or of unusual precision
Each actuator is an 8-pole, permanent magnet machine
The stator is segmented and shared between actuators, maximising torque capacity and efficiency
Asymmetry further improves performance/unit package volume and weight
Control
Master controller requests the required valve event
Each actuator is under independent position control
Local actuator controller determines the target rotor trajectory for minimal energy consumption
The target trajectory is dynamically adjusted, compensating for transient engine behaviour during each valve event
Testing
Testing has been conducted both on test rigs and on the dynamometer
The first iVT modules have been designed for the inlet valves of a Jaguar Land Rover Ingenium engine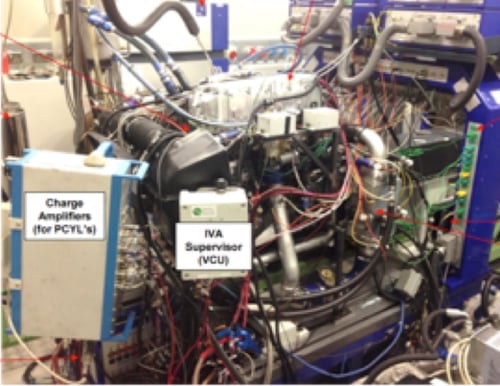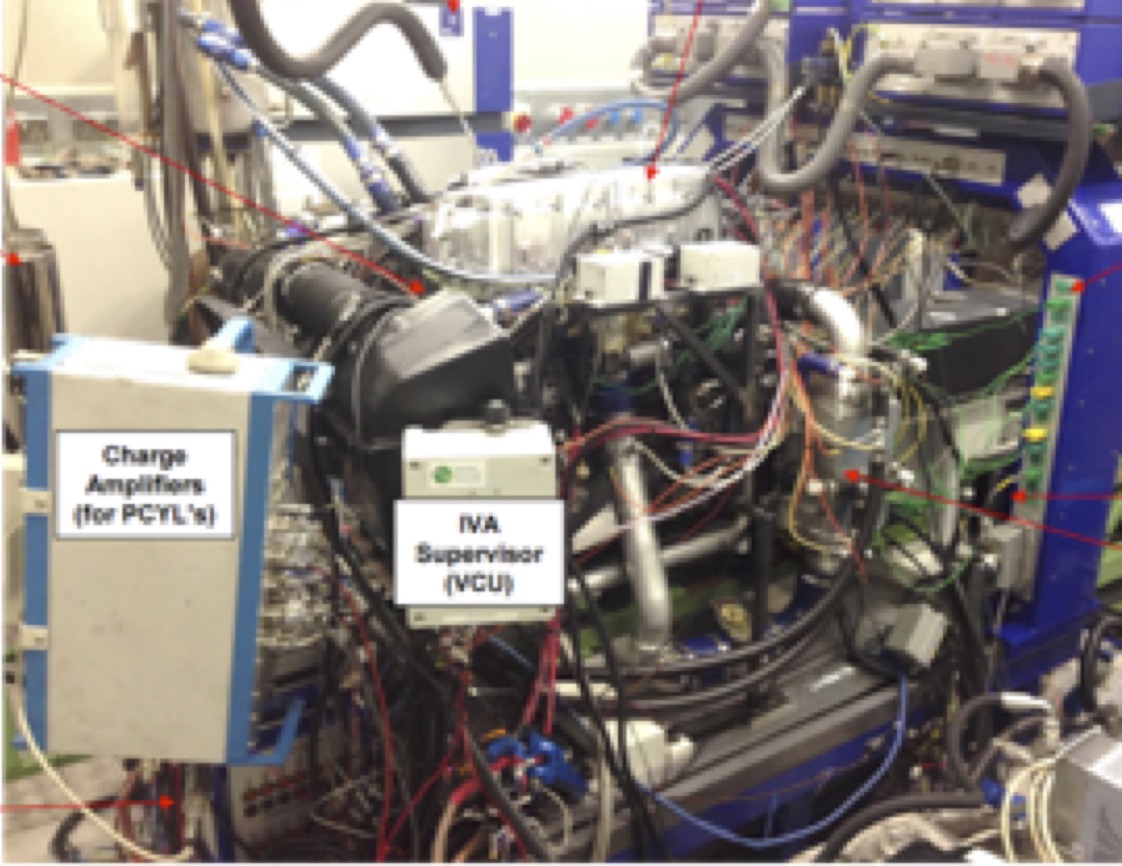 Max valve lift reduced to 7.8mm
1D analysis suggested similar performance- timing/period  compensating for reduced lift
The dynamometer results confirmed the predicted performance
Eliminates piston interference
Dynamometer Testing
10 "minimap" steady state points defined
Large DoE experiment completed (Inlet only)
CO2 improvements up to 7.5% recorded
Optimised events established
The VVT capability required is greater than any other available system
Even greater iVT dynamic capability is now in development and will provide further benefit
Results Analysis
CO2 results achieved with iVT power sourced from the alternator – opportunity for smart charging?
The CO2 benefits come from 3 sources:
Pumping loss reduction
Heat release rate and knock sensitivity increase
Parasitic loss reduction
Event Consistency
Valve position was measured on the fired engine for 300 consecutive events
An example of the control achieved is shown
Measurements of event quality have been established in order to ensure that other development improvements, e.g. power consumption, can be measured against a common standard
Optimised events
Throttle wide open in all cases, including idle
Single valve mode often best
Both EIVC and LIVC capability needed for different conditions
Late MOP useful for some events
Only steady state and the simplest iVT strategies have been explored so far – there is much more to come
Other Aspects of Note
VERY low mechanical noise
Transient valve response: 0-100% in one cycle
Significant detonation sensitivity improvement
Cranking torque reductions of ~30% through reduced pumping loss have been demonstrated
There are hybridisation synergies yet to be explored but deletion of the timing drive is an obvious benefit
Demo car available now
Single cylinder R&D programme support possible
Cost and Affordability
On-costs have been estimated as a joint effort – a Tier 1, Jaguar Land Rover and Camcon
The CO2 benefit, even on the basis of today's steady state results alone "pays for" the system
There is much more to come in terms of CO2 benefits
Next Steps
The next generation iVT prototypes are being procured now.
The new actuators will be smaller, lighter, cheaper, >40% lower electrical power demand
Improved dynamic performance will mean further improved CO2 results
Exhaust actuators and 16V engine testing included in the next stage of the programme 
And then: diesel, including heavy duty
Like to know more?
Please give us your contact details and we will be in touch